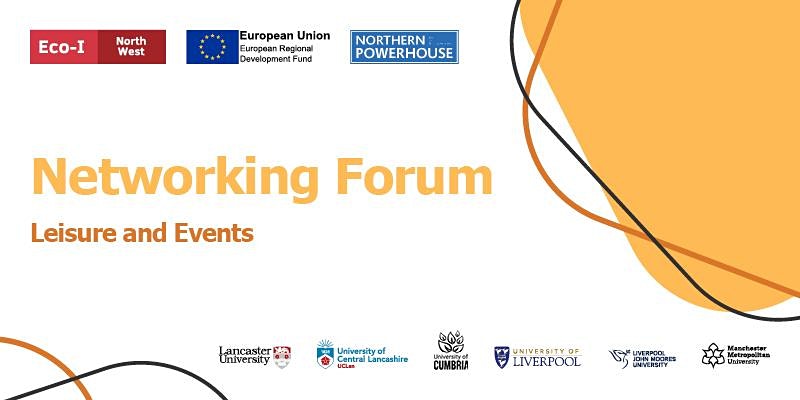 About this event
In this facilitated networking session, you will discuss and share ideas about low carbon interventions, leveraging learnings from real industry experiences for mutual benefit.
This session is designed to support SMEs to harness best practice sharing so they can collectively build tailored strategies and action plans as a direct result of common experiences – connecting challenges to solutions with forward-thinking attitudes.
With a specific focus on the leisure and events industry, examples and themes will be relevant to you and your business to empower you to plan and succeed.
The ECO I NW team can also offer support with carbon audits for your business.
WHEN IS IT?
Thursday 23rd June, 9am – 12pm
WHERE IS IT?
All three events are online. Link to be provided on registration.
WHO IS IT FOR?
Cumbrian SMEs in the leisure and events sector who are already making low carbon changes to their operations and are looking for continuous improvement.
HOW DO I REGISTER?
You can register for the event here: https://www.eventbrite.co.uk/e/networking-forum-leisure-and-events-registration-180911299567
TOPICS COVERED
You will explore a low carbon future for SMEs in Cumbria, and specifically define why this matters to you and your business.
Together we will:
Answer the 'what's next' question for each SME and create an action plan

Find practical, fit for purpose next steps to equip you with real actions and an understanding of the tangible benefits

Boost your confidence to ensure each SME can each take steps to become more sustainable without a long-term negative impact on financials

Gain an understanding of the changes you can make to support your sustainable innovation goals

Grow knowledge of where to go to for help and advice

Consolidate advice and materials from previous sessions to aid progression and deepen understanding
THIS SESSION IS
Practical, relevant and supportive

A chance to understand what it is to be an SME in Cumbria

Collaborative and engaging

Confidence-building and empowering

Creative, agile and insightful

Full of knowledge, hints and tips to make sustainability work for your SME

The place to bring your issues and problems – and find answers

All about network and collaboration
THIS SESSION ISN'T
A competitive space – we're all about the collaboration

The place to increase your technical knowhow – previous sessions are designed to deliver those needs to you

A place to be disengaged or bored – bring your a-game and you will get back what you put in

A place that will give you all the answers – you will have to work on finding the right ones suited to your SME